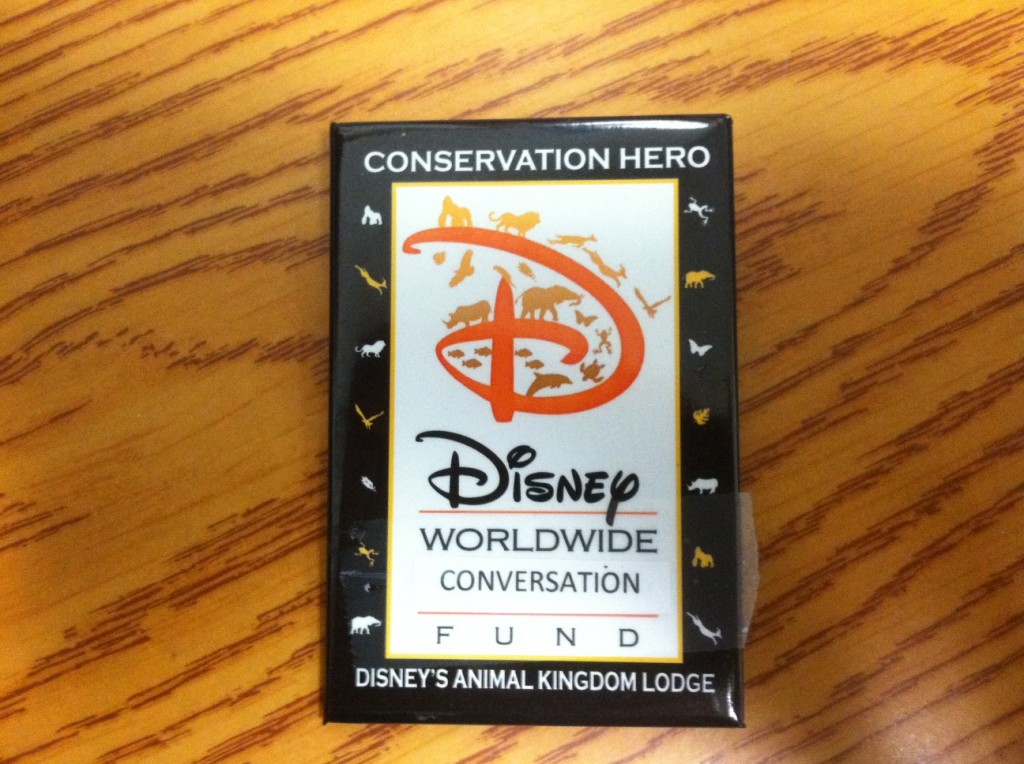 Do you talk about conservation? In other words, are you having a conversation about conservation? Or are you doing something about it?
On our recent trip to the Walt Disney World, we stayed at the beautiful Animal Kingdom Lodge. One of the newest hotels on WDW property, this African-themed resort is one of the best at transporting you directly to the heart of the savannah. (Now I'm starting to sound like a travel brochure.)
A trip to the lodge wouldn't be complete without a stroll through the gift shop, Zawadi Marketplace. This is where I met Carolyn, a Cast Member with a great smile and blessed with the gift of conversation. She actually helped me on a previous trip when I met some extended family for dinner at the lodge.
At the end of my transaction, Carolyn shared with me the story of the Disney Worldwide Conservation Fund and asked if I would like to contribute. The answer was yes and she gave me pins for each member of my family as a way of saying thank you.
Fast forward about 24 hours . . . a second visit to Zawadi and guess who is there? Yep. Carolyn and her smile. It was my turn to share a story with her. I told her that when I got back to our room with the pins on the day before, at first glance, my wife said it looked like the pin said "conversation" . . . a little tricky for our tired eyes. Our daughter is quite the talker and my wife commented that it would be neat to have a pin for her as the family conversation hero.
This is where Carolyn leaped into action. I made my purchase and she disappeared to a back room. When she came out a few moments later, she presented me with the pin made especially for my daughter that you see pictured above.
I took it to our room and we all had a good laugh, including the intended recipient.
And all of this started because Carolyn engaged me in a conversation about conservation. You can rest assured knowing we will find Carolyn on our next visit.
How are you going to engage your customers/guests today? The conversation you have today will pay benefits tomorrow.
PS. Did you notice the word was changed to "Conversation" on the pin?
Tweet